iKey Prime v2.1 ICloud Bypass Tool Download
In the current digital era, ICloud activation locks have become a significant obstacle for consumers who want to utilise their iOS devices. But as technology advanced, techniques to get around these locks and unlock iCloud-locked devices started to arise, such iKey Prime v2.1. The iKey Prime v2.1, its features, and how to use it to get around iCloud using a SIM tool are all thoroughly explained in this post.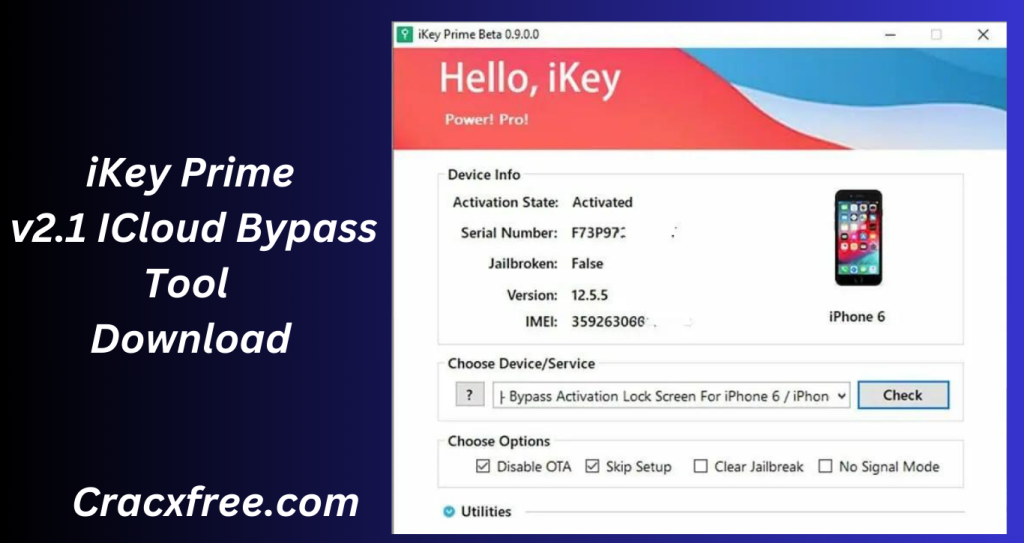 Overview of iCloud Bypass:
Apple has put in place security features called iCloud activation locks to safeguard customer data and stop unauthorised access. People who are unable to supply the required Apple ID credentials to unlock the device may encounter difficulties due to these locks. But there is a way to get past these locks and recover access to the device thanks to programmes like iKey Prime v2.1.
What Is iKey Prime v2.1
IKey Prime is very user-friendly and easy to use. As it doesn't require any prior knowledge or experience in the field, it is ideal for individuals who are completely new to iPhone unlocking and jailbreaking. It provides a variety of possibilities and is one of the most effective applications on the market.
It is important to understand that delaying iCloud activation or trying to gain access to someone else's iCloud account without their consent is against Apple's terms and conditions of service and can be illegal in some countries.
Delaying iCloud activation could be risky because doing so might permit unauthorised access to data stored in the iCloud account. If done incorrectly, it could render the gadget inoperable. I don't
Key Features:
A number of characteristics in iKey Prime v2.1 make it a trustworthy and effective solution for getting around iCloud activation locks. Among the standout characteristics are:
MEID GSM Bypass: iKey Prime v2.1 enables users to get around the iCloud activation lock on MEID-based GSM-based devices.
Sim Tool Compatibility: The software is compatible with a number of SIM tools, allowing users to complete the bypass procedure without difficulty.
Easy-to-utilise Interface: IKey Prime v2.1 is a user-friendly interface that both novice and seasoned users may utilise.
Quick Bypass Procedure: The software guarantees a speedy bypass procedure, giving consumers quick access to their gadgets.
Benefits:
Using iKey Prime v2.1 for iCloud bypass offers several benefits to users, making it a popular choice among individuals facing activation lock issues.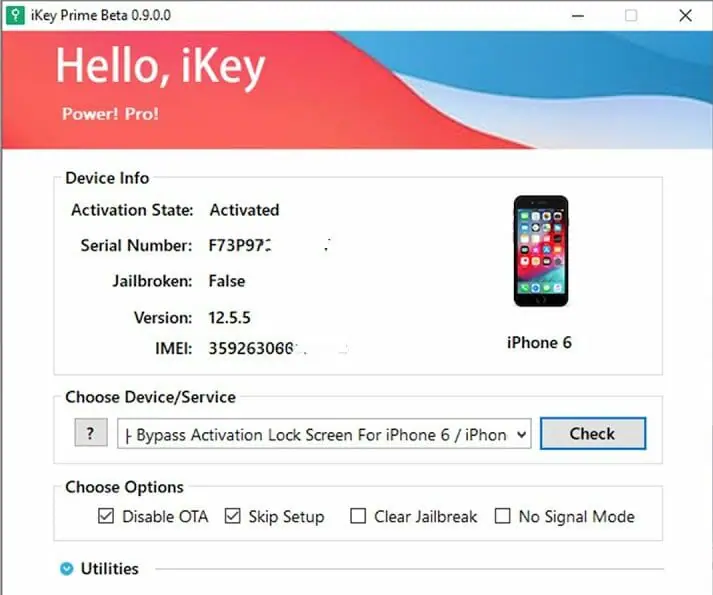 Checker:
Apple Reports Review the remaining coverage for the Apple device as well as the status of your warranty.
Free Apple Information Discover all the information on your Apple products, including the model, color, capacity, and more. $0.50
On/Off for Find My iPhone Make sure that your handset has the Find My iPhone feature turned on.
ICloud Clean/Lost is free. Check if your Apple device is connected to an iCloud account and, if it is, whether a theft or loss report has been filed for it.
SIMLock Status for Free Check to check if your phone is locked to a particular network and if the carrier can unlock it.
Free MDM Status (On/Off) Check to see if your Apple device has Mobile Device Management (MDM) installed.
What's new:
Supports iPhone 5S up to iPhone X (MEID + GSM)

Supports iPad (2013 from 2013 to) (WiFi AND Cellular models only)

Supports iOS 12.0 and up to iOS 16.4

Compatible Winra1n(Windows) / Palera1n(Linux/Mac)

Supports iPhone 5S up to iPhone X (MEID + GSM) With Signal
Supports iPhone 5S up to iPhone X (MEID + GSM) Without Signal
Supports iOS 12.0 and up to iOS 16.4.1
Supports iPad (2013 – 2019) (WiFi + Cellular models ONLY)
Compatible with Windows (Winra1n)/Linux (Palera1n)/Mac (Palera1n) jailbreak
Conclusion:
The exceptional iOS programme iKey Prime v2.1 offers simple, quick, and convenient ways to bypass activation lock limitations and change iOS devices. The iKey Prime v2.0 is a crucial tool for iOS users who want to have control over the features of their smartphone because it supports the most recent version of iOS 16.4.1 and compatibility with the most widely used jailbreaking tools.
Get Access Now: