SnakeBite iOS 14 MDM Bypass Tool Latest Version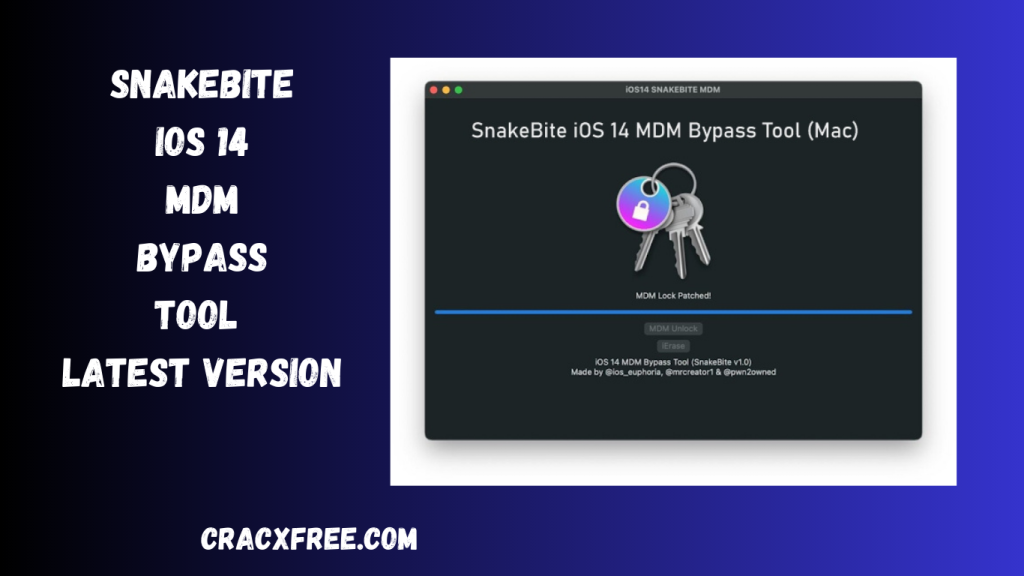 In the world of iOS device management, Mobile Device Management (MDM) solutions play a crucial role in ensuring security and control over corporate-owned devices. However, in certain situations, there may be a need to bypass the MDM restrictions to regain access to an iOS device. One tool that has gained popularity for MDM bypass is the SnakeBite iOS 14 MDM Bypass Tool. In this article, we will explore the latest version of this tool and its features.
Download the most recent iteration of the iOS 14 MDM Bypass Tool from SnakeBite. Have you ever felt constrained while using an iOS smartphone that had the MDM security lock installed? Mobile device management, or MDM, is a well-liked security tool that businesses employ to monitor the devices connected to their network. Even while it has benefits for business, people who seek unlimited access to their technology may find it inconvenient. It might be difficult for people who want to use their technology without limitations, but it might be helpful in the workplace. One option is the SnakeBite iOS 14 MDM Bypass Tool.
What is an MDM Bypass Tool?
Let's first define an MDM bypass tool before delving into SnakeBite iOS 14 MDM Bypass Tool. An MDM bypass tool is made to get around restrictions placed on iOS devices by organisations or universities about Mobile Device Management. In order to ensure compliance with security and usage standards, these constraints frequently restrict the device's functionality and control. To get beyond these limitations and reclaim total control over the device, use an MDM bypass tool.
Benefits:
SnakeBite iOS 14 MDM Bypass Tool offers several benefits for users looking to bypass MDM restrictions on their iOS devices. Let's explore some of these advantages:
By bypassing MDM restrictions, SnakeBite empowers users to regain control over their iOS devices. They can customize device settings, install applications of their choice, and use the device according to their needs, without being limited by MDM policies.
SnakeBite simplifies the device setup process by removing MDM profiles and restrictions. This is particularly useful for individuals who acquire corporate-owned devices and wish to personalize them for personal use or switch to a different MDM solution.
With SnakeBite, users gain increased flexibility in managing their iOS devices. They can install apps from outside the App Store, use unsupported features, and have more control over system settings. This flexibility allows for a more tailored and personalized user experience.
SnakeBite helps organizations and individuals save time and costs associated with complex MDM unenrollment processes or purchasing new devices. By bypassing MDM restrictions, existing devices can be repurposed or reused, reducing the need for additional expenditures.
Key Features:
SnakeBite iOS 14 MDM Bypass Tool provides an intuitive and user-friendly interface, making it accessible even to users with limited technical knowledge. The tool offers step-by-step instructions and guidance throughout the bypassing process, ensuring a smooth experience for the user.
The latest version of SnakeBite is fully compatible with iOS 14, the latest iteration of Apple's operating system for mobile devices. This ensures that users can bypass MDM restrictions on devices running iOS 14 without any compatibility issues.
SnakeBite iOS 14 MDM Bypass Tool effectively bypasses MDM restrictions, allowing users to regain control over various device functionalities. It enables users to remove MDM profiles, restrictions, and supervision controls, giving them the freedom to customize their device settings as per their requirements.
Unlike many other MDM bypass tools, SnakeBite does not require the iOS device to be jailbroken. Jailbreaking a device can void warranties and introduce security vulnerabilities. SnakeBite provides a safe and reliable bypassing method without the need for jailbreaking, ensuring the device remains secure and functional.
How to Use Tool?
Using SnakeBite iOS 14 MDM Bypass Tool is a straightforward process. Here are the general steps to follow:
Download the latest version of SnakeBite iOS 14 MDM Bypass Tool from the official website.
Install the tool on a computer with the necessary system requirements.
Connect the iOS device with MDM restrictions to the computer using a USB cable.
Launch SnakeBite and follow the on-screen instructions to initiate the bypassing process.
Wait for the tool to complete the bypassing procedure.
Once the process is complete, the device will be free from MDM restrictions, allowing the user to configure it according to their preferences.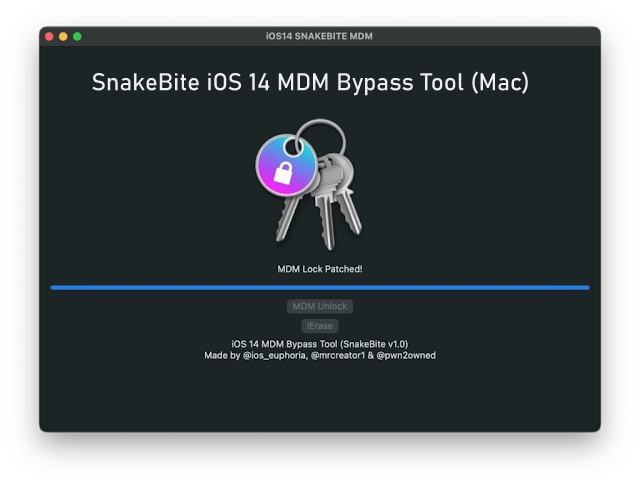 Conclusion:
SnakeBite iOS 14 MDM Bypass Tool provides a valuable solution for bypassing MDM restrictions on iOS devices running iOS 14. It offers a user-friendly interface, compatibility with the latest iOS version, and the ability to bypass MDM restrictions without the need for jailbreaking. However, it is essential to consider the limitations and associated risks before using the tool.
SnakeBite empowers users to regain control over their devices, simplifies device setup, provides increased flexibility, and can result in time and cost savings. By understanding the tool's capabilities and following the proper procedures, users can make informed decisions regarding their iOS device management.
Get Access Now: